Our Games Ambassadors play an important role from year to year, helping to encourage people of all ages and abilities to take part and enjoy the New Zealand Masters Games experience to the fullest.
During Games Week, the Ambassadors will be out supporting and encouraging participants, presenting medals at the medal ceremonies, and you might even see them have a go at a sport or two!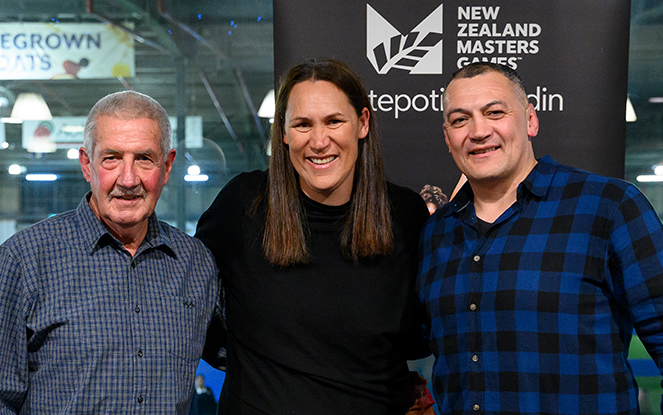 Warren Lees
Being a Games Ambassador is a role Warren Lees carries out with great enthusiasm.
"Last Games it was 12 hours a day, dashing from one sport to another congratulating winners or sharing a quick cup of tea with the helpers. I even took part in some of the more sedate events. After 10 days I was absolutely knackered but there was never a moment I didn't enjoy."
Warren has been involved in cricket for 52 years — as a player, a captain, a coach and as an administrator — and is held in high regard within the cricketing fraternity.
As a player and captain, Warren led the province to national titles, developing a renowned team culture within the Otago ranks. Nationally Warren represented NZ from 1976-1983 as a wicketkeeper/batsman, including a test century highlight against Pakistan.
He then turned to coaching and led the Black Caps for three seasons. During this period NZ cricket reached a national high, with unprecedented public interest, as NZ hosted the 1992 World Cup. In recent years he has focused on the development of women's cricket. His coaching role with the Otago Sparks led to a tenure as White Ferns coach to the 2014 World Cup in Bangladesh.
Warren has an MBE for his services to sport and the community and has a life membership for both Otago Cricket and the Halberg Trust, of which he was a trustee for thirty years.
He now lives a quieter life with his wife Jude on a lifestyle block in Central Otago and encourages Games goers to embrace the social side of things.
"Try something new or just show that you've still got what it takes. Score more laughs than points and take home great memories.," he says.
Jodi Brown
A stalwart of professional netball, we're very proud that Jodi Brown has returned as an Otago Community Trust New Zealand Masters Games Ambassador for the 2024 Games.
"The motto of the Masters Games is Keep Playing/Kori Tonu, which is a sentiment close to my heart," Jodi says.
"It captures the spirit of the Masters Games — friendships new and old, competing and being active, and socialising until the sun comes up. The Masters Games are proof that age is no barrier to being active and making the most of life."
With a career spanning over 15 years playing top-level netball, Jodi's career began in Wellington with the Capital Shakers in the Coca Cola Cup, before being sought after by almost every club in the Coca Cola Cup, National Bank Cup, and ANZ Championships over the years.
She had a small hiatus while she had two children, before returning to being a full-time netballer.
Jodi was part of the World Champion Silver Ferns, who won gold at the 2003 Netball World Cup in Jamaica. Following this, she went on to win two silver medals in later Netball World Cups, as well as finishing her 61-test International Career with a silver medal at the 2014 Commonwealth Games.
Jodi's services to Netball were acknowledged with a NZ Order of Merit (NZOM) in the 2016 New Year's Honours.
"I enjoy giving back to the sporting community (mostly through my children and their millions of sports!). I also coach netball at rep-age-group level for Dunedin Netball and I'm on the WISPO (Women in Sport Otago) committee. I'm looking forward to getting out and about again at the Masters Games, enjoying the banter and interacting with everyone." 
Neil Brew
The 2024 New Zealand Masters Games will be Neil Brew's first time participating as an Ambassador.
"I'm really looking forward to seeing people connect and build relationships under the umbrella of sports (Whakawhanaungatanga)," he says.
"In our busy lives, we need opportunities (great excuses) like these to give us something to focus towards or challenge ourselves to get up and get moving, all while building relations and having fun."
Originally from the North Island, Neil moved to the deep south in 2001 to play professional rugby for the Highlanders and Otago NPC teams. In 2006 he headed overseas to play professional rugby for Bristol, before moving to Japan where he had 7 years playing for the companies Toshiba and NEC in Japan's top league. He played a season with the Hurricanes and played representative footy for the New Zealand Māori team.
When Neil finished playing overseas, he moved back to Dunedin with his wife and two children. He is now a school teacher at Balmacewen Intermediate.
"I am a great advocate of the Te Whare Tapa Whā concept. Through sports, we can cover all dimensions of our personal well-being: physical, mental/emotional, spiritual, and family/social. By making sure we spend time to keep these aspects of our health and well-being strong, we promote a fulfilling, well-rounded life and support overall health and happiness as we age."
Sports, especially rugby, has given Neil and his family many great memories and experiences, he says.
"Those that I hold dear to my heart are those of the people that I have met along the way, and I look forward to meeting new faces at the Masters Games."