The Otago Community Trust New Zealand Masters Games is proud to present the 2020 Games Ambassadors who are out there enlightening everyone about what they have to gain by being part of the Masters movement.
A stalwart to Professional Netball, we are very proud that Jodi Brown has returned as an Otago Community Trust New Zealand Masters Games Ambassador for the 2020 Games.
With a career spanning over 15 years playing top level Netball, Jodi's career began in Wellington with the Capital Shakers in the Coca Cola Cup, before being sought after by almost every club in the Coca Cola Cup, National Bank Cup, and ANZ Championships over the years. During her career, she had a small hiatus away from Netball while she had two children, before returning to Netball and balancing Motherhood and being a full time netballer. Jodi was part of the World Champion Silver Ferns, who won Gold at the 2003 Netball World Cup in Jamaica.
Following this, she went on to win two Silver medals in later Netball World Cups, as well as finishing her 61-test International Career with a Silver Medal at the 2014 Commonwealth Games. Jodi's services to Netball were acknowledged with a NZ Order of Merit (NZOM) in the 2016 New Year's Honours.
Jodi now gives back to the Game through coaching St Hilda's Collegiate, as well as co-hosting Sky Sports "Netball Zone." Dunedin is now the place Jodi calls home, where she lives with her husband Markham and their three children.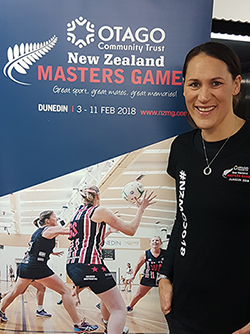 Warren Lees is our second ambassador for 2020.
Warren first represented the Otago area in 1963 as a young and promising school boy. This signalled the beginning of a long and successful career in the sport of cricket. His ensuing 52 years of continuous service to the sport have been unparalleled by any other cricket personality.
His multifaceted roles as a player, a captain, a coach and as an administrator are held in high regard within the cricketing fraternity. As a player and captain, Warren led the province to national titles, developing a renowned team culture within the Otago ranks. Nationally Warren represented NZ from 1976-1983 as a wicketkeeper/batsman, including a test century highlight against Pakistan.
On his retirement as a player, Warren turned to coaching and led the Black Caps for three seasons. During this period NZ cricket reached a national high, with unprecedented public interest, as NZ hosted the 1992 World Cup. In recent years he has focused on the development of women's cricket. His coaching role with the Otago Sparks led to a tenure as White Ferns coach to the 2014 World Cup in Bangladesh.
Warren was awarded an MBE for his services to sport and the community. Following on from this, his provincial contribution was recognised with a life membership of Otago Cricket. His thirty years of service as a trustee of the Halberg Trust was also acknowledged with a life membership award. Warren now lives a quieter life with his wife Jude on a lifestyle block near Clyde,Central Otago. He maintains a high interest in cricket, but prefers to focus any free time he has on his six young grandchildren.